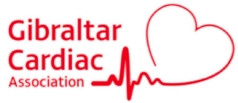 Gibraltar Cardiac Association
The Association is a charity and pressure group who meet regularly to obtain better benefits and conditions for patients and their families when attending tertiary hospitals for treatment and surgeries.
We are committed to creating public awareness on the importance of leading a healthy lifestyle with a balanced diet and regular exercise. We are here to ensure cardiac sufferers are not forgotten about and get the support they require.
We hold events to fundraise so that we can continue to invest in AEDs, new training material, new equipment for the Rehab Centre and our long term goal of having a new centre specifically for Cardiac patients.
We can be found on Facebook under Gibraltar Cardiac Association.
Should you wish to contact us, please do so by return email on gibraltarcardiac@gmail.com