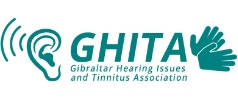 Gibraltar Hearing Issues and Tinnitus Association
GHITA is a volunteer led charity that represents the Deaf and Hard of Hearing in Gibraltar.
Registered Charity No. 220, a member Gibraltar Disability Rights Federation and World Hearing Forum.
We raise awareness in schools/clubs, agencies/authorities and the public/private sector.
We support people giving guidance from medical/ treatment/therapies to equipment and services available to them.
We lobby and campaign for change.
We promote an encourage the use of British Sign Language.
Contact email info@ghita.gi
SMS and WhatsApp +35054066055
www.facebook.com/groups/224241297595087/
www.instagram.com/gibraltarhearing/